Love Always - A Book Series
Sweet Romantic Comedies
Love, Lilly
Book One - Now available.
He's her best friend's brother and completely out of her league…
Twenty-three-year-old Lilly is the quirky girl, the one with the c-c-curly hair. She's always late, is rarely neat and does not have her life together. She will never be that girl, the one who gets the perfect guy. But hopefully this is about to change. It is a new year and Lilly has made some resolutions to get her act together.
Her best friend's brother Oliver is the reliable guy, the one who rescues Lilly from all of her disasters. He's organised, makes lots of lists and has a strict five-year plan in place to get ahead in life. He never makes rash decisions, unless it relates to Lilly, and then he can't seem to help himself.
With this in mind, it would seem that these two friends have little in common. Except perhaps a secret pining for each other that has gone unspoken for too long.
Can a weekend of fake dating convince Lilly and Oliver that they are actually perfect for each other? And that opposites really do attract after all?
Fans of Sarah Adams and Emma St. Clair will love this sweet, friends-to-lovers romantic comedy that will make you laugh out loud and make you drool—over your new book boyfriend, Oliver. This book is low on angst, has lots of chemistry but with no explicit content.
Preview Book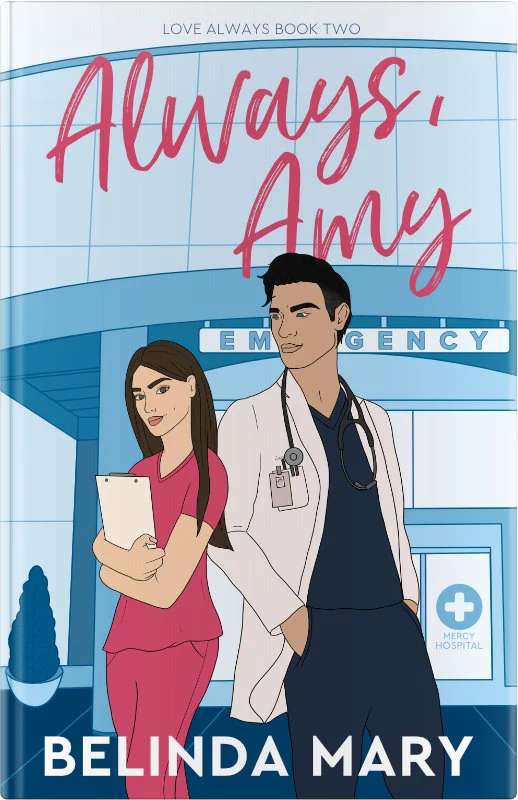 Always, Amy
Book Two - Coming June 2023
Can two people go from being enemies to lovers to…just friends?
Twenty-five-year-old Amy Harlow has read every romance trope that exists and she loves them all. She's very familiar with the fictional archetypal bad boy characters, and sadly, she has dated quite a few. And so, when she meets the suave, arrogant, but oh-so-good looking Lucas Mancini, the new doctor working with her in the emergency department, she knows exactly where to put him. As public enemy, number one.
Unfortunately for Amy, Lucas is determined to evade his role as the bad guy in her story, and before she knows what's happening, he has moved from enemy to lover and now to friend? How had that happened? And now that he has put her in the friend zone, Amy cannot focus on anything other than getting herself out of it.
With the help of an anxious puppy, her friends in a raucous romance book club, and a weekend of fake dating (it works in all the books she so happily devours), will Amy be able to overcome her preconceived notions about love and Lucas, and finally write her own happy ending?
Title TBA
Book Three - Coming late 2023
Sign up to my newsletter to be the first to find out...